Ad blocker interference detected!
Wikia is a free-to-use site that makes money from advertising. We have a modified experience for viewers using ad blockers

Wikia is not accessible if you've made further modifications. Remove the custom ad blocker rule(s) and the page will load as expected.
In-Game Examine Window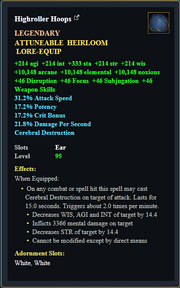 Highroller Hoops

LEGENDARY
ATTUNEABLE   HEIRLOOM   LORE-EQUIP
  

+214 str

+214 agi

+214 wis

+214 int

+333 sta


+10,148 vs elemental +10,148 vs noxious +10,148 vs arcane
+46 Focus +46 Disruption +46 Subjugation
+46 Weapon Skills
31.2% Attack Speed
21.8 Damage Per Second
17.2% Crit Bonus
17.2%  Potency

Cerebral Destruction
 
Slot
Ear
Level
95 (Tier 10)
 
Effects:


When Equipped:

On any combat or spell hit this spell may cast Cerebral Destruction on Target of attack. Lasts for 15.0 seconds. Triggers about 2.0 times per minute.

Decreases WIS, AGI and INT of target by 14.4
Inflicts 3366 mental damage on target
Decreases STR of target by 14.4
Cannot be modified except by direct means
Obtain: [How can I get one?] try LootDB or the linkback
\aITEM 815822466 -142998583:Highroller Hoops\/a \aITEM 815822466 -142998583:Highroller Hoops\/a
What does this information mean?