What does this information mean?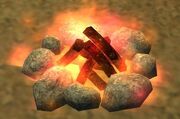 Wash the vegetables in the river near Cookie's tent by heading to the river just west of the tent ( -22, -123, 567 ) 

/waypoint -22, -123, 567

and use the Cookie's Vegetables in your inventory.
Roast the vegetables by clicking the smaller firepit just outside Cookies tent. ( -65, -116, 665 ) 

/waypoint -65, -116, 665

(Only ONE person can be roasting the vegetables at a time, while they are the fire is unclickable.)
Wait a minute until you can click the fire pit again.
Put the vegetables in a bowl on the table right next to Cookie.
Speak to Cookie Yevek to complete the quest.
Ad blocker interference detected!
Wikia is a free-to-use site that makes money from advertising. We have a modified experience for viewers using ad blockers

Wikia is not accessible if you've made further modifications. Remove the custom ad blocker rule(s) and the page will load as expected.