For other articles with related titles, see Haladan Moonrunner.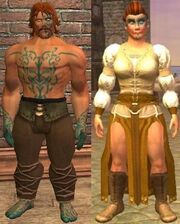 .
What does this information mean?
Linked with Tuskers Enraged and is a hard mode version of Haladan Moonrunner encounter if you do not accept his surrender. This mob is a higher level and much more difficult, on top of that he and Tuskers Enraged start with full health. If you're going to try this, the total HP for all mobs combined is around 140,000,000 HP. Occasionally a trash mob of wolves will also pop and attack group members that try to keep the distance from the mob. Sometimes heroic wolves will spawn and other times epic. Tank will need to grab these and they don't have a lot of HP (around 500,000 or so).
Ad blocker interference detected!
Wikia is a free-to-use site that makes money from advertising. We have a modified experience for viewers using ad blockers

Wikia is not accessible if you've made further modifications. Remove the custom ad blocker rule(s) and the page will load as expected.