Ad blocker interference detected!
Wikia is a free-to-use site that makes money from advertising. We have a modified experience for viewers using ad blockers

Wikia is not accessible if you've made further modifications. Remove the custom ad blocker rule(s) and the page will load as expected.
In-Game Examine Window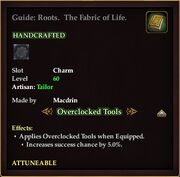 Guide: Roots. The Fabric of Life.

HANDCRAFTED
ATTUNEABLE   ORNATE
Overclocked Tools
 
Slot
Charm (Optional)
Level
60 (Tier 7)
 
Effects:


Applies Overclocked Tools when Equipped.

Increases success chance by 5.0%
Obtain: Tinkerer-crafted using a 300 skill recipe
What does this information mean?