Ad blocker interference detected!
Wikia is a free-to-use site that makes money from advertising. We have a modified experience for viewers using ad blockers

Wikia is not accessible if you've made further modifications. Remove the custom ad blocker rule(s) and the page will load as expected.
In-Game Examine Window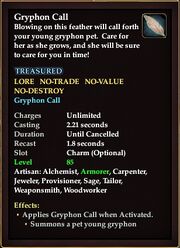 Gryphon Call
Blowing on this feather will call forth your young gryphon pet. Care for her as she grows, and she will be sure to care for you in time!

TREASURED
LORE   NO-TRADE   NO-VALUE   NO-DESTROY
Required by the Quest
'Playing Fetch, A Keener Sheen, Fishy Treats For Hungry Beaks, Growing Pains, Meaty Meals for a Growing Gryphon'
Gryphon Call
 
Charges
Unlimited
Casting
2.21 seconds
Duration
Until Cancelled
Recast
1.8 seconds
Slot
Charm (Optional)
Level
85 (Tier 9)
Artisans: Alchemist, Armorer, Carpenter, Jeweler, Provisioner, Sage, Tailor, Weaponsmith, Woodworker
 
Effects:


Applies Gryphon Call when Activated.

Summons a pet young gryphon
Obtain: Reward from the quest "Dream Weaving" in Great Divide.
What does this information mean?