Ad blocker interference detected!
Wikia is a free-to-use site that makes money from advertising. We have a modified experience for viewers using ad blockers

Wikia is not accessible if you've made further modifications. Remove the custom ad blocker rule(s) and the page will load as expected.
In-Game Examine Window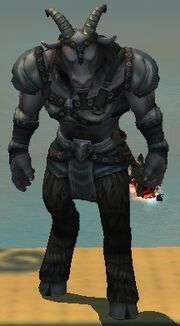 Gruengach Illusion

TREASURED
LORE   NO-TRADE   NO-VALUE
Gruengach Illusion
 
Charges
Unlimited
Casting
1.0 seconds
Duration
Until Cancelled
Recast
0.0 seconds
Slot
Charm (Optional)
Level
75 (Tier 8)
 
Effects:


Applies Gruengach Illusion when Activated.

Shapechanges caster into a gruengach
Obtain: Purchased from Lamis <Master of Disguises> in the central area of The Hole by hailing him and paying 5 plat
What does this information mean?
The Gruengach Illusion is used to avoid negative faction hits in The Hole.
Using the illusion temporarily moves your character to maximum negative faction (-50,000) with all 3 Hole factions (Caertaxian Legion, Defenders of the Seal, Guardians of the Underfoot). Then, once it is removed, all faction changes incurred while the illusion was active, both positive and negative, are removed, leaving your faction standing as it was before donning the illusion.
Using this illusion allows players to do daily quests that require killing mobs without taking permanent faction hits from the killing. To make sure players don't accidentally hand in the quests while in Gruengach Illusion and waste the faction gain, the quest giving NPCs won't speak with you while the illusion is active.