What does this information mean?
You must have completed the quest The Final Piece as well or Disciple Shula will not offer you this quest.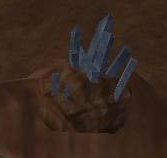 Travel to the Grueling Pits ( 255, -106, -1035 ) 

/waypoint 255, -106, -1035

in the goblin camp north of the Swiftrider's Camp.
Examine gemstones being mined by Sandcrawler Miners nearby to "chip off a piece" six times (NOTE: one of them is outside the marked area at ( 144, -100, -1087 ) 

/waypoint 144, -100, -1087

). Note also that they do not appear as collectible if you are flying.
Return to Disciple Shula.
At least

1g

One of the following, based on Class:
Ad blocker interference detected!
Wikia is a free-to-use site that makes money from advertising. We have a modified experience for viewers using ad blockers

Wikia is not accessible if you've made further modifications. Remove the custom ad blocker rule(s) and the page will load as expected.