In-Game Examine Window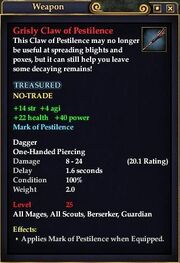 Grisly Claw of Pestilence
This Claw of Pestilence may no longer be useful at spreading blights and poxes, but it can still help you leave some decaying remains!

TREASURED
NO-TRADE

+14 str

+4 agi




+22 health



Mark of Pestilence
 
Dagger
One-Handed Piercing
Damage
8 - 24                  (20.1 Rating)
Delay
1.6 seconds seconds
Level
25 (Tier 3)
All Mages, All Scouts, Berserker, Guardian
 
Effects:


Applies Mark of Pestilence when Equipped.
Obtain: Quest reward from Bring on the Blight
What does this information mean?