What does this information mean?
This is an unlimited repeatable quest, as long as the guide is there to give and complete it.
Starting the Quest
Edit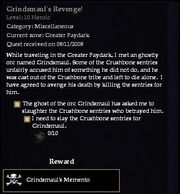 For this quest, the guide (disguised as a ghostly Orc named Grindsmaul, without the Guides of the Shattered Land guild tag) will roleplay how he was cast out of the Crushbone sentries for something he did not do, and now he wants revenge. He will then offer you the quest.
Kill 10 Crushbone sentries on Orc Hill.

Although this quest is marked 'Heroic' in your journal, the mobs are solo.

Return to Grindsmaul.
Ad blocker interference detected!
Wikia is a free-to-use site that makes money from advertising. We have a modified experience for viewers using ad blockers

Wikia is not accessible if you've made further modifications. Remove the custom ad blocker rule(s) and the page will load as expected.