Ad blocker interference detected!
Wikia is a free-to-use site that makes money from advertising. We have a modified experience for viewers using ad blockers

Wikia is not accessible if you've made further modifications. Remove the custom ad blocker rule(s) and the page will load as expected.
In-Game Examine Window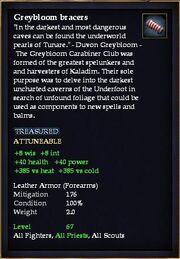 Greybloom bracers
"In the darkest and most dangerous caves can be found the underworld pearls of Tunare." - Duvon Greybloom - The Greybloom Carabiner Club was formed of the greatest spelunkers and harvesters of Kaladim. Their sole purpose was to delve into the darkest uncharted caverns of the Underfoot in search of unfound foliage that could be used as components to new spells and balms.

TREASURED
ATTUNEABLE

+8 wis

+8 int




+40 health

+40 power


+385 vs elemental

 
Leather Armor (Forearms)
Mitigation
176
Level
67 (Tier 7)
All Fighters, All Priests, All Scouts
 
Obtain: From the Small Chest of mobs in Kaladim.
\aITEM -785108160 -1611365121:Greybloom bracers\/a \aITEM -785108160 -1611365121:Greybloom bracers\/a
What does this information mean?