Ad blocker interference detected!
Wikia is a free-to-use site that makes money from advertising. We have a modified experience for viewers using ad blockers

Wikia is not accessible if you've made further modifications. Remove the custom ad blocker rule(s) and the page will load as expected.
In-Game Examine Window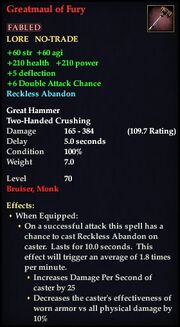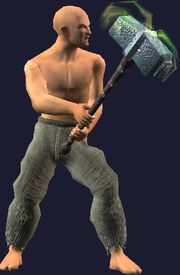 Greatmaul of Fury

FABLED
LORE   NO-TRADE

+60 str

+60 agi




+210 health

+210 power


+5 Deflection

Reckless Abandon
 
Great Hammer
Two-Handed Crushing
Damage
165-384                  (109.7 Rating)
Delay
5.0 seconds
Level
70 (Tier 8)
Bruiser, Monk
 
Effects:


When Equipped:

On a successful attack this spell has a chance to cast Reckless Abandon on caster. Lasts for 10.0 seconds. This effect will trigger an average of 1.8 times per minute.

Increases Damage Per Second of caster by 25
Decreases the caster's effectiveness of worn armor vs all physical damage bu 10%
Obtain: [How can I get one?] try LootDB or the linkback
\aITEM -1854729234 -943327105:Greatmaul of Fury\/a \aITEM -1854729234 -943327105:Greatmaul of Fury\/a
What does this information mean?