What does this information mean?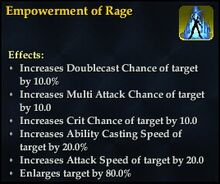 This zone is only accessible by characters instructed to access it as part of a quest.
The zone is full of Graystone barbarians and Graystone dwarves which are aggro. They all have a status effect that makes them immune to AOEs unless they're directly targeted.
There are also NPCs called a confused Qeynos guard. If the player gets too close to one of these, it will kick them, sending them flying around the zone and likely into the aggro radius of something.
Periodically, players, monsters and pets alike will receive a buff called Empowerment of Rage.
Ad blocker interference detected!
Wikia is a free-to-use site that makes money from advertising. We have a modified experience for viewers using ad blockers

Wikia is not accessible if you've made further modifications. Remove the custom ad blocker rule(s) and the page will load as expected.