For other articles with related titles, see Gortov.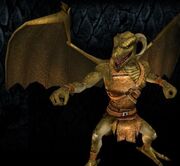 .
EverQuest II Named Monster Information
Zone (Patch)
Vesspyr Isles (Tears of Veeshan)
Race
Droag
Level
96▲ Tier 10 Solo , (Approx. HP: 1,100,000)
Location
On the small island west of Karak Peak ( -121, 29, -512 ) 

/waypoint -121, 29, -512

 
Reported Drops
none reported, try LootDB.
Melee Attacks
Slashing
Special Attacks

Talon Strike (Slashing)

Related Quests
AA Exp
unknown
Status Points
unknown
What does this information mean?