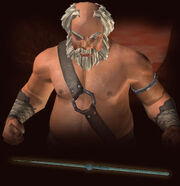 .
What does this information mean?
!! Start the fight by using Shamanistic trident of undoing - otherwise he will hit like an EPIC x 4 !!!
This boss is Epic x4 and hits very hard but not like a real epic. Like in the QP Gorge, this boss sometimes "Grows Up" with a buff which heals him, makes him hit even harder, etc... When this happens, use the 'Trident' loot on Witch Doctor Vuh'Duh to make him lose his buff and weaken him.
Ad blocker interference detected!
Wikia is a free-to-use site that makes money from advertising. We have a modified experience for viewers using ad blockers

Wikia is not accessible if you've made further modifications. Remove the custom ad blocker rule(s) and the page will load as expected.