In-Game Examine Window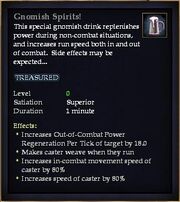 EverQuest II Item Information
Type: Drink

Gnomish Spirits!

This special gnomish drink replenishes power during non-combat situations, and increases run speed both in and out of combat. Side effects may be expected...
 
TREASURED
Satiation
Superior
Duration
1 minute
Level
1 (Tier 1)
Effects:

Increases Out-of-Combat Power Regeneration Per Tick of target by 18.0
Makes caster weave when they run
Increases in-combat movement speed of caster by 80%
Increases speed of caster by 80%




Obtain: Reward from the quest "Tinkerfest Cheer" in Steamfont Mountains.
\aITEM 1290416338 -1469626019:Gnomish Spirits!\/a \aITEM 1290416338 -1469626019:Gnomish Spirits!\/a
What does this information mean?
| | |
| --- | --- |
| | This article refers to events, personae and activities only accessable in-game during the annual Tinkerfest festivities that occur roughly from the end of July to early August. |
Ad blocker interference detected!
Wikia is a free-to-use site that makes money from advertising. We have a modified experience for viewers using ad blockers

Wikia is not accessible if you've made further modifications. Remove the custom ad blocker rule(s) and the page will load as expected.