In-Game Examine Window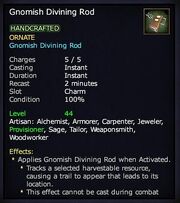 What does this information mean?
Opens up a nonstandard Tracking window, set to only show "Harvestables". The list will be filled with harvest nodes, collection !'s and ?'s, and some quest nodes show up too (including the elusive An Eye for Power color shards).
Once you select one, and press ok, the window will close and you will get a glowy waypoint trail leading you to your choice
Ad blocker interference detected!
Wikia is a free-to-use site that makes money from advertising. We have a modified experience for viewers using ad blockers

Wikia is not accessible if you've made further modifications. Remove the custom ad blocker rule(s) and the page will load as expected.