Ad blocker interference detected!
Wikia is a free-to-use site that makes money from advertising. We have a modified experience for viewers using ad blockers

Wikia is not accessible if you've made further modifications. Remove the custom ad blocker rule(s) and the page will load as expected.
In-Game Examine Window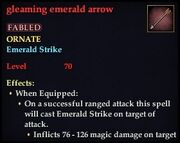 EverQuest II Ammo Information
Gleaming emerald arrow

FABLED
Emerald Strike

 
 
Level
70 (Tier 8)
 

Effects




When Equipped:

On a successful ranged attack this spell will cast Emerald Strike on target of attack.

Inflicts 76 - 126 magic damage on target
Obtain: Used to drop in Emerald Halls, no longer available in game.
GameLink: \aITEM -397302178 1270168632:gleaming emerald arrow\/a 

\aITEM -397302178 1270168632:gleaming emerald arrow\/a