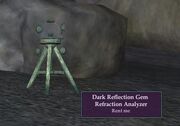 EverQuest 2 Quest Information
Journal Category
Kaladim
Journal Level
32 (Tier 4)
Journal Difficulty
Solo
Starting Zone
Kaladim more
How to Start
Examine the Gem Analyzer in Brell's March area of Kaladim
What does this information mean?

This is a sub-quest of Dunfire Diamonds are a Dwarf's Best Friend.
In order to destroy the gnome gem analyzer, I need to disassemble it. I will need special tools for that.
I need to find, in any order:
The first sized wrench, the bolt sized gem analyzer wrench (labeled 1 bt).
The second sized wrench, the microbolt sized wrench (labeled 1 mbt).
The third sized wrench, the bitbolt sized wrench (labeled 1 bbt).
The fourth sized wrench, the speckbolt sized wrench (labeled 1 sbt).
The wrenches will spawn randomly at the following locations:
In the east tower, bottom floor, on top of a crate
In the east tower, middle floor, on top of a crate ( -29, 45, -138 ) 

/waypoint -29, 45, -138

In the east tower, middle floor, on top of a bookcase ( -23, 44, -126 ) 

/waypoint -23, 44, -126

In the east tower, top floor ( -34, 52, -137 ) 

/waypoint -34, 52, -137

In the west tower, ground floor, on top of a crate ( 21, 29, -137 ) 

/waypoint 21, 29, -137

In the west tower, middle floor, on top of a barrel ( 18, 45, -124 ) 

/waypoint 18, 45, -124

On top of the gate. Climb either tower and jump down onto the gate ( -5, 49, -132 ) 

/waypoint -5, 49, -132