Ad blocker interference detected!
Wikia is a free-to-use site that makes money from advertising. We have a modified experience for viewers using ad blockers

Wikia is not accessible if you've made further modifications. Remove the custom ad blocker rule(s) and the page will load as expected.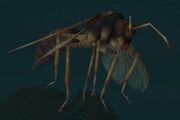 .
EverQuest II Named Monster Information
Zone (Patch)
Cobalt Scar (LU66)
Race
Wasp
Level
98▲▲ Tier 10 Solo
Location
East edge of the Wildwood Maze ( 3328, -964, 1010 ) 

/waypoint 3328, -964, 1010

 
Reported Drops
AA Exp
yes
Status Points
none
What does this information mean?
Each time Fuzbuzz successfully attacks with his basic melee, he automatically powerdrains for 500 power.
At 50% health, Fuzbuzz summons five cobalt honeyseekers (98^, slightly overconned)