Ad blocker interference detected!
Wikia is a free-to-use site that makes money from advertising. We have a modified experience for viewers using ad blockers

Wikia is not accessible if you've made further modifications. Remove the custom ad blocker rule(s) and the page will load as expected.
In-Game Examine Window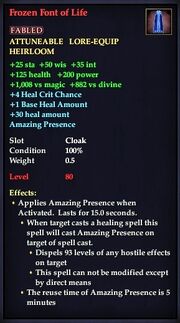 Frozen Font of Life

FABLED
ATTUNEABLE   LORE-EQUIP   HEIRLOOM

+50 wis

+35 int

+25 sta




+125 health

+200 power


+602 vs noxious +882 vs arcane

4% Crit Chance
1%  Potency
+30 Ability Modifier

Amazing Presence
 
Slot
Cloak
Level
80 (Tier 9)
 
Effects:


Applies Amazing Presence when Activated. Lasts for 15.0 seconds.

When target casts a healing spell this spell will cast Amazing Presence on target of spell cast.

Dispels 93 levels of any hostile effects on target.
This spell can not be modified except by direct means.

The reuse time of Amazing Presence is 5 minutes
Obtain: From the Exquisite Chest of Xaxia Viralus in Miragul's Planar Shard.
\aITEM 864297868 1608526987:Frozen Font of Life\/a \aITEM 864297868 1608526987:Frozen Font of Life\/a
What does this information mean?