For an alphabetic listing of articles related to this topic, see Category:Frostfell.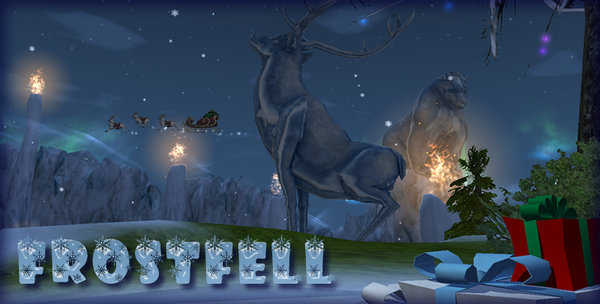 | | | |
| --- | --- | --- |
| " | Frostfell is coming, the vulrich is getting fat! Please do put a copper in the old gnome's hat![1] | " |
It's Frostfell Time in Norrath, again! Song fills the air, Norrathians bustle to purchase that special gift and all the fixing for their feast, and those Frostfell Elves are out in force once more, bring cheer and gifts of the season to one and all. Frostfell is the Live Event for December, first run in 2005, in celebration of Christmas.
Frostfell 2014
Edit
Frostfell 2013
Edit
New Quest
Edit
A Deepice Mystery -- Players must complete this quest in order to free several Frostfell quest-givers.
Tradeskill Quest
Edit
New Achievements
Edit
Frostfell Wonderland Village
Edit
Some of the Frostfell quests take place in your home city but many occur in a special holiday zone called Frostfell Wonderland Village. Frostfell received a makeover in 2013 and a Map of the revamped zone is available here: New Wonderland Village Map.
There is a magic closet located in each of the cities which you click on to Frostfell Wonderland Village:
Snowball Fights and More!
Edit
Scattered about the city zones you will find harvestable stacks of snowballs (on about a 1-minute respawn timer). Gather them to get a pile of 20 Snowballs (which stack in 200s now). When you target a mob, or another player, and use the snowball you will throw a snowball at the target causing them to run one of several different animations including shaking a fist at the thrower or being knocked down! Get your guild together for a Frostfell party and have a snowball fight contest!
Or if you prefer something a little more than a snowball, you can craft a Sturdy Fruitcake to pitch at your fellow Norrathians. A more hefty hit to the face, these fruitcakes will cause the player (or NPC -- try one of each on your favorite city guard!) to fall to the ground in shock.
Frostfell Merchants
Edit
Many of the Frostfell quests reward you with a special currency Frozen Token of E'ci which may be exchanged with Frostfell merchants for special holiday rewards. Frostfell Merchants can be found at the following locations:
Frostfell Crafting
Edit
Crafting Stations
Edit
All of the Frostfell holiday recipes require the use of special crafting stations. The regular stations in your guildhall, house, or home town will not work for creating these festive items.
However, there is a way you can obtain these special crafting stations for your house so you can craft Frostfell items year-round!
To acquire the Frostfell crafting stations you must first craft a cheery key, a festive key, and a merry key. To be able to scribe the recipes for these keys requires a level 90+ tradeskill and the recipes are sold by Ginneldarf Gigglegibber in the Frostfell Decoration Committee: Permafrost! quest instance. The keys open a chest of the same type, for instance, a cheery key would open a cheery chest. It is also important to note that only one of each chest will be up at a given time.
Chest
Reward
Zone
Location(s)
Cheery Chest
Cheery Loom
Antonica
( -1892, -33, -495 ) 

/waypoint -1892, -33, -495

, ( -718, -16, 250 ) 

/waypoint -718, -16, 250

, ( -547, -13, -334 ) 

/waypoint -547, -13, -334

Cheery Chest
Cheery Loom
Timorous Deep
( 1926, 49, -434 ) 

/waypoint 1926, 49, -434

, (27, 65, 134)
Festive Chest
Festive Workbench
Frostfang Sea
( 506, 27, -240 ) 

/waypoint 506, 27, -240

, ( 242, 37, 183 ) 

/waypoint 242, 37, 183

, (152, 46, -275), (603,34,-332)
Festive Chest
Festive Workbench
Darklight Wood
( 254, -20, 141 ) 

/waypoint 254, -20, 141

, ( -363, -62, 251 ) 

/waypoint -363, -62, 251

, ( 253, -20, 10 ) 

/waypoint 253, -20, 10

Merry Chest
Merry Stove & Keg
Greater Faydark
( -746, 50, 282 ) 

/waypoint -746, 50, 282

, ( -566, 67, -76 ) 

/waypoint -566, 67, -76

, ( -118, 4, -71 ) 

/waypoint -118, 4, -71

(-365.82, 11.49, 156.19) (606,45,68)
Merry Chest
Merry Stove & Keg
Commonlands
( -429, -45, -287 ) 

/waypoint -429, -45, -287

, ( -1255, -84, 124 ) 

/waypoint -1255, -84, 124
Crafting Materials
Edit
The following crafting resources are harvested from stacks of wrapped packages in Frostfell Wonderland Village for Frostfell recipe crafting.

Single Red Present

Three, Red on Top

Three, Blue on Top

cerulean gem of joy
chunk of wax
cotton twine
everfrost icicle
fancy black wrap
fancy red wrap
fancy red and white wrap
fancy purple wrap
frostfell candle mold
frostfell snowdrift spell scroll
handful of snips 'n snails
icy snowball
malleable gold bar
malleable silver bar
parchment sheets
scarlet gem of joy

bourbon
brandywine
crusty bone
cured ham
cup of cranberries
festive fabric
fresh celery
fresh eggs
frosted apple
frostfell coloring
frostfell spice
gigglegibber baking mix
gigglegibber sweet tooth
molasses
onyx gem of joy
orange rind
raw fowl
raw vanilla
scented sandalwood
sugar 'n spice mix
sweetened bread

black fabric dye
blue fabric dye
bolt of cotton
candy-striped staff pattern
frilly ribbon
frostfell elf cap pattern
frostfell stocking pattern
glittery powder
gold fabric dye
green fabric dye
magical thread
male frostfell outfit pattern
purple fabric dye
red fabric dye
scrap of white fur
spark of goodwill
stretch of reindeer leather
unadorned silk
Frostfell Quests
Edit
Feature
Quests
First appeared in
Notes
Gifting Day
2005
Visit Santa Glug in Frostfell Wonderland Village each day for a free Frostfell gift. Originally, players spoke to Gardy Giftgiver, and in 2006 Santa Glug took over after poor Gardy suffered an unfortunate mugging.
The Tale of the Gigglegibber Grump

2005
The 2005 Frostfell storyline dealt with the case of the Gigglegibber Grump. This quest line was started in Qeynos Harbor or West Freeport. It was not available as part of the 2006 or 2007 Frostfell adventures, but returned in 2008. Scales to player level. Repeatable annually.
A Gigglegibber's work is never done (by a Gigglegibber)
2005
These quests scale every five levels, and can be repeated ten times per level (changing level via chronomentoring). The first time this quest is completed, the reward is a Frostfell Tree. Subsequent completions offer a choice of a Frostfell Wreath; or (new in 2010) a Festive Gigglegibber Tapestry and some decoration rewards, then later yet additional holiday-themed house items were included.
Feelin' Gifty
2005
Completing this quest gives you options for lighting your Frostfell Tree.
Frozen Token of E'ci
2006
Speak to Gerbi Frostfoot in Frostfell Wonderland Village to see the Frostfell Merchant Items. You can trade tokens for items. Tokens may be earned in The Icy Keep during the Mission Improbable quests, or in the 2010 quest, Raiding the Gifty Storehouse. Players with extra gifts from the Gigglegibber Gifty Storehouse can trade them to Gixen in the Enchanted Lands for additional tokens.
A Frostfell Favor
2006
...With apologies to Charles Dickens

The storyline from Frostfell 2006 centered upon the NPC, Mr. McScroogle.[2] In Qeynos Harbor, West Freeport, Haven, and Kelethin, players would visit the giant Frostfell Tree and find a magic wardrobe. As in Narnia, they would step through (click) the wardrobe to be transported to the Frostfell Wonderland Village!

Players would then seek out Mr. McScroogle on an island at the back of the village, talk to him, and be transported to his home AS HIM (in an illusion form). Therein would begin the major quest for the season, A Frostfell Favor, where players were visited by thee three ghosts of Frostfell past, present and future. Repeatable annually.

Frostfell Candycane Grab
2006
Repeatable. Gigglegibber Enterprises Presents: Frostfell Candycane Grab'n'Tag (introduced with Live Update #30)[3]. In 2011, the game was moved out of the cities and into Antonica the Commonlands and renamed Frostfell Candy Grab.
Saving Frostfell
2007
Repeatable annually. Queen Bunny is distraught over the unseemly commercialization of Frostfell. She sends you to save the spirit of the holiday by destroying the McScroogle Corporation's factory.
Mission Improbable Heroic Quests
2008
In 2009 an additional quest was added following this questline, An Exalting Experience!.
Decoration Additions
2008
Rewards a Frostfell Tree, except in Freeport and Neriak, where one may obtain a Dead Frostfell Tree.
Collection Quest
Toes: Frost-bitten Toes
2008
The Giftgiver's Dilemma
2009
Repeatable annually. In 2010, a follow-up quest was added, Raiding the Gifty Storehouse, is offered by Gardy Ex-Giftgiver after you complete The Giftgiver's Dilemma. This new instance (the map uses part of the Runnyeye dungeon) is the only place outside of the The Icy Keep where you can get Frozen Tokens of E'ci. Players with extra gifts from the Gigglegibber Gifty Storehouse can trade them to Gixen in the Enchanted Lands for additional tokens. Repeatable every 18 hours.
Frostfell Fanatic!
2010
Repeatable annually. Examine the Call to Frostfell Fanatics item (received in the Norrathian Mail) to start the Frostfell Fanatic! quest. The mail and token was replaced by an Achievement in 2013, awarded after completing the available Frostfell quests.
Frostfell Decoration Committee: Permafrost!
2011
A tradeskill quest, repeatable daily.
Merry Mischief
2012
A Deepice Mystery
2013
Players must complete this quest in order to free several Frostfell quest-givers.
References
Edit
↑

From a popular Qeynos children's Frostfell rhyme.
| | |
| --- | --- |
| | This article refers to events, personae and activities only present in-game during the annual Frostfell celebration. Frostfell comes to Norrath each year from (roughly) the second week of December to the first week of January. |