Frostfang Sea is a starting zone containing the city of New Halas. It is a level 1-20 newbie zone, containing many quests. It is a very small starting zone, but it contains enough content to reach level 20. It also contains a tier 9 raid zone and player housing.
Frostfang Sea was chosen to be the location for New Halas by Mithaniel Marr. Originally it was inhabited by the Coldain dwarfs, but now supports Barbarians, Frogloks, and other followers of Marr.
Geography
Edit
Frostfang Sea is a relatively small zone composed of a large island of ice and rock and several smaller icebergs and islands. Many of the outlying icebergs have become outposts for orcs.
Frostfang Sea can be reached by an automatic ferry that travels between the main island and Pilgrims' Landing or the globes which replaced most of the old dock bells.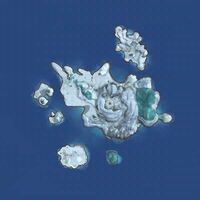 See the Frostfang Sea Timeline
Similar Zones
Edit