What does this information mean?
Description
Edit
"Sentry Talvee asked me to recover as many of the stolen blooms as I can. I should be wary of guard Tuwasp bixies near the basket of stolen spirit blooms." --Everquest II Journal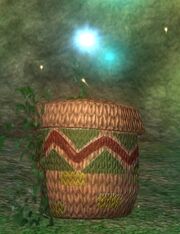 Recover basket of fae blooms ( -151, -42, -534 ) 

/waypoint -151, -42, -534

Return to Sentry Talvee
Conclusion
Edit
"I was able to recover the stolen spirit blooms, taking them back from the Tuwasp bixies." --Everquest II Journal
Ad blocker interference detected!
Wikia is a free-to-use site that makes money from advertising. We have a modified experience for viewers using ad blockers

Wikia is not accessible if you've made further modifications. Remove the custom ad blocker rule(s) and the page will load as expected.