The Item, Location, Quest, Mob or NPC referred to by this page has been removed from EverQuest II.
This article is being retained for historical reasons
This Quest got replaced with the Quest Foraging under Kelethin
What does this information mean?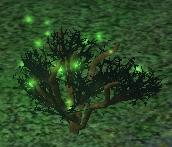 Gather five Cedar nuts at the Treant Grove ( 558, 3, -108 ) 

/waypoint 558, 3, -108

Return to Amber Walker
The cedar nuts are neither click- nor tab-targetable, and can be found anywhere in Treant Grove - such as directly beneath or behind coerced saplings.
Unfortunately, this quest is bugged. The nuts are nowhere to be found. I followed the instructions above but could not find any nuts,

I thought it was bugged also but after look at the picture of the bushes I was able to complete the quest. The bushes will not show up if you tab through targets and nothing appears above them if you look at them. But if you click on the bushes you get the nuts.
Ad blocker interference detected!
Wikia is a free-to-use site that makes money from advertising. We have a modified experience for viewers using ad blockers

Wikia is not accessible if you've made further modifications. Remove the custom ad blocker rule(s) and the page will load as expected.