What does this information mean?
Must be a Half Elf to receive this quest.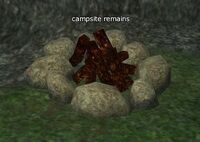 Search campsite remains for clues as to who is setting them up. You may need to search several campsites before you find the information you need. You are looking for a page with scribbled gnollish.

Possible locations for the campsite remains:

( 999, -18, -735 ) 

/waypoint 999, -18, -735

Return the note you find to Elvic Garrett.
Speak with Acting Lieutenant Germain for your reward. ( 900, -15, -577 ) 

/waypoint 900, -15, -577
Ad blocker interference detected!
Wikia is a free-to-use site that makes money from advertising. We have a modified experience for viewers using ad blockers

Wikia is not accessible if you've made further modifications. Remove the custom ad blocker rule(s) and the page will load as expected.