What does this information mean?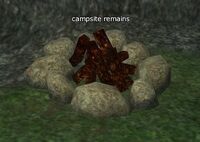 Search campsite remains for clues as to who is setting them up. You may need to search several campsites before you find the information you need. You are looking for a page with scribbled gnollish

Possible locations for the campsite remains:

( 999, -18, -735 ) 

/waypoint 999, -18, -735

Return the note you find to Elvic Garrett.
Speak with Acting Lieutenant Germain for your reward.