In-Game Examine Window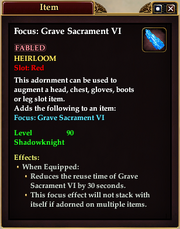 EverQuest II Adornment Information
Focus: Grave Sacrament VI
FABLED

HEIRLOOM

Adds the following to an item:
Item Type
Head,  Chest,  Hands,  Legs,  Feet
Slot Type
Red Adornment Slot
Level
90 (Tier 10)
Effects:


When Equipped:

Reduces the reuse time of Grave Sacrament VI by 30 seconds.
This focus effect will not stack with itself if adorned on multiple items.
Obtain: This item can be purchased from Kal'Jeketh in The Sundered Frontier for 10pp and 5 Seal of Arad.
\aITEM 1587697125 -1632608898:Focus: Grave Sacrament VI\/a \aITEM 1587697125 -1632608898:Focus: Grave Sacrament VI\/a