The Item, Location, Quest, Mob or NPC referred to by this page has been removed from EverQuest II.
This article is being retained for historical reasons
Adornments like this got replaced with LU55, you may find them ingame still but you can't craft em anymore
In-Game Examine Window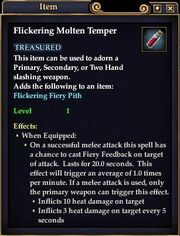 EverQuest II Adornment Information
Flickering Molten Temper
TREASURED
This item can be used to adorn a Primary, Secondary, or Two Hand slashing Weapon.
Adds the following to an item:
Flickering Fiery Pith

 
Level
1
 
Effects:

When Equipped:

On a successful attack this spell has a chance to cast Fiery Feedback on target of attack. Last for 20.0 seconds. This effect will trigger an average of 1.0 times per minute. If a melee attack is used, only the primary weapon can trigger this effect.

Inflicts 12 heat damage on target
Inflicts 3 heat damage on target every 5 seconds
Obtain: Crafted by a Transmuter using a recipe from Enigma of Transmuting Volume 1.
GameLink

: 
Ad blocker interference detected!
Wikia is a free-to-use site that makes money from advertising. We have a modified experience for viewers using ad blockers

Wikia is not accessible if you've made further modifications. Remove the custom ad blocker rule(s) and the page will load as expected.