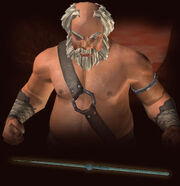 .
What does this information mean?
The Flame Lord first appears as a non-aggro, non-attackable mob. To make him attackable,
hail him to fight his two efreeti stewards of Thyr
it is advisable to kill all of the magma elementals in the room before talking to him again.
after the fight, talk to him again to get teleported to a cage where, if you haven't already killed them, several magma elementals will attack you (even if they're grey) and Flame Lord himself will turn into a attackable monster
The Flame Lord can be pulled (or killed from within range) with a pet and ranged attacks.
Ad blocker interference detected!
Wikia is a free-to-use site that makes money from advertising. We have a modified experience for viewers using ad blockers

Wikia is not accessible if you've made further modifications. Remove the custom ad blocker rule(s) and the page will load as expected.