What does this information mean?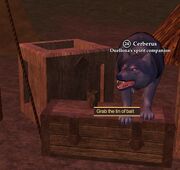 Harvest a tin of bait at ( -2041, 1, 175 ) 

/waypoint -2041, 1, 175

.

Although the gnolls at the camp are hard at this level, you do not need to kill them. You can retrieve the tin by whatever means possible, and then run away. Be warned that the tin is on a box in the gnoll camp (very small and hard to spot at first glance).

Return to Blarton for your reward.
At least

1s

 

59c

One of the following, based on Class:
Ad blocker interference detected!
Wikia is a free-to-use site that makes money from advertising. We have a modified experience for viewers using ad blockers

Wikia is not accessible if you've made further modifications. Remove the custom ad blocker rule(s) and the page will load as expected.