This page has been nominated for needing help with rename.
If you disagree, you may leave a message on this page's talk page.


new name: The Firemyst Gully
reason given: Zone's proper name
EverQuest II Instanced Zone Information
Introduced
Shattered Lands
Level Range
15-22
Access Quest
Lord Grimrot's Scythe
Zone in from
Antonica
Entrance is at
South-central Antonica, near the entrance to Blackburrow ( -1200, -12, 709 ) 

/waypoint -1200, -12, 709

Parent Zone
None
Difficulty
Group
Failure Lockout
none
Success Lockout
1 hour 30 minutes
What does this information mean?
Walkthrough
Edit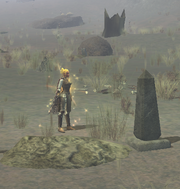 In a camp near the entrance, to the left, is Sir Thothur Dorarr. He gives the only Firemyst Gully quest, Cleansing of the Firemyst Gully, although you might need to complete previous quests to trigger his. It's not a repeatable quest.
Buy an old dwarven shovel from Brother Morrim.
Your target is Galintari the Apocryphal. He's in a small skull-shaped surrounded by a graveyard hut in the middle of the zone.
If you simply rush Galintari, dozens of zombies will pop out of the graves and will wipe you. You can use the shovel you bought to dig up the graves so you can fight the zombies a few at a time. They won't despawn if they kill you though, so it may be faster to just take the death and clean them out afterwards. There's even a mender in the zone.
Ad blocker interference detected!
Wikia is a free-to-use site that makes money from advertising. We have a modified experience for viewers using ad blockers

Wikia is not accessible if you've made further modifications. Remove the custom ad blocker rule(s) and the page will load as expected.