What does this information mean?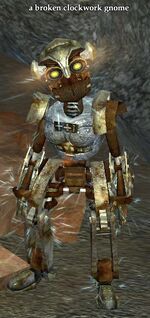 Description
Edit
I talked to a gnome at Gnomeland Security Headquarters named Grendlo Nimwitty and he told me about the clockwork he was working on. He asked me to find a logic processing unit and I promised that I will try to locate one in Klak'Anon's junkyard. (In the "completed" section of your journal this will show as repeatable. It is not.)
Zone into Klak'Anon. Upon zoning in you should see a broken clockwork gnome west of your position. Right click for update.
Return to Grendlo for your reward.
Ad blocker interference detected!
Wikia is a free-to-use site that makes money from advertising. We have a modified experience for viewers using ad blockers

Wikia is not accessible if you've made further modifications. Remove the custom ad blocker rule(s) and the page will load as expected.