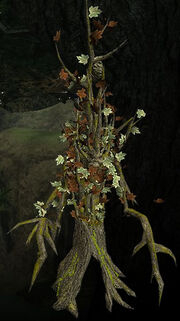 .
EverQuest II Named Monster Information
Zone (Patch)
Zavith'loa: The Hidden Caldera (Solo) (Altar of Malice)
Race
Treant
Level
100▲ Tier 11 Solo
Location
Plateau with two mobs of "a Clotl'thoa Worshipper" and wandering "a Clotl'thoa Fanatic" surrounding a fire pit with a multi-armed wooden creature"Fiery Effigy of Clot'thoa (God of the Allu'thoa)" ( -3330, 10, 72 ) 

/waypoint -3329.50, 10.00, 72.22

Reported Drops

Far Seas Ferrin + Coin (1p+) ornate chest: "Far Seas Booty" - Random Drop (I received: "Half-hoop of Blurred Blades" Legendary, lvl 96 ear ring w/healer bonuses)

AA Exp
Yes
Status Points
5500
What does this information mean?
Ad blocker interference detected!
Wikia is a free-to-use site that makes money from advertising. We have a modified experience for viewers using ad blockers

Wikia is not accessible if you've made further modifications. Remove the custom ad blocker rule(s) and the page will load as expected.