In-Game Examine Window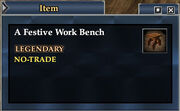 EverQuest II Item Information
What does this information mean?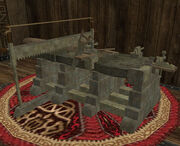 This tradekill station can only be used to make Frostfell items.
Though it looks like the standard tradeskill stations for woodworking and has a name similar to the workbench, its functions and recipes depart from standard stations; it has a mix of recipes that use a broader variety of materials from Frostfell than either standard table it resembles in appearance and name.
It can be placed in player housing or in Guild Halls and used year round if you have stocked up on Frostfell materials and Frostfell fuels like Elven Magic, Holiday Cheer, or Holiday Spirit.
This crafting station is looted after players with a tradeskill of 90+ craft a festive key during Frostfell.
| | |
| --- | --- |
| | This article refers to events, personae and activities only present in-game during the annual Frostfell celebration. Frostfell comes to Norrath each year from (roughly) the second week of December to the first week of January. |