Ad blocker interference detected!
Wikia is a free-to-use site that makes money from advertising. We have a modified experience for viewers using ad blockers

Wikia is not accessible if you've made further modifications. Remove the custom ad blocker rule(s) and the page will load as expected.
What does this information mean?
This is an unlimited repeatable quest (after a cool-down period of 2 hours)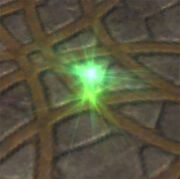 All of the decoration locations are marked with a green sparkle that looks similar to a collection "shiny" from a distance.
If working on this and placing the lanterns for the lost decorations quest, you may have to pass by the same general areas a few times, as the refresh between setting the Ro Candle and the paper lanterns may have a considerable time gap.
Find 4 places to "celebrate" in Freeport by setting a Ro Candle off. The activation points look and act like green shinies.

Along the row of shops in West Freeport ( 161, -3, -93 ) 

/waypoint 161, -3, -93

or ( 85, -10, -23 ) 

/waypoint 85, -10, -23

By the statue of the overlord in West Freeport ( 241, -4, 116 ) 

/waypoint 241, -4, 116

or ( 220, -3, 102 ) 

/waypoint 220, -3, 102

Along Victory Road in South Freeport ( -90, -25, 154 ) 

/waypoint -90, -25, 154

or ( -78, -25, 266 ) 

/waypoint -78, -25, 266

On the docks in South Freeport ( -267, -56, 204 ) 

/waypoint -267, -56, 204

or ( -294, -56, 136 ) 

/waypoint -294, -56, 136

Return to Gandy Gearlotta
Repeating the quest for the fifth time offers an additional reward:
| | |
| --- | --- |
| | This article refers to events, personae, items and activities only present in-game during the annual Heroes' Festival event. Heroes' Festival comes to Norrath for a short time, generally around the beginning of November. |