fermented pomegranate    < Fermented pomegranate >
Talk

0
Share
Ad blocker interference detected!
Wikia is a free-to-use site that makes money from advertising. We have a modified experience for viewers using ad blockers

Wikia is not accessible if you've made further modifications. Remove the custom ad blocker rule(s) and the page will load as expected.
In-Game Examine Window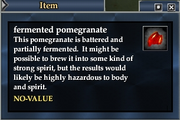 EverQuest II Item Information
Type: Food

fermented pomegranate

This pomegranate is battered and partially fermented. It might be possible to brew it into some kind of strong spirit, but the results would likely be highly hazardous to body and spirit.
 
 
NO-VALUE

Obtain: [How can I get one?] try LootDB or the linkback
What does this information mean?