What does this information mean?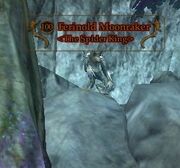 he will summon spiders who make him invulnerable as long as they are up.
Soloable - but it took an hour to take him down. Whenever a spider appears focus on the spider and take it down asap. At least 30 spiders and hatchlings spawned. Dropped moonraker ring and amulet (L95 each proccing Crack of Doom I).
Ad blocker interference detected!
Wikia is a free-to-use site that makes money from advertising. We have a modified experience for viewers using ad blockers

Wikia is not accessible if you've made further modifications. Remove the custom ad blocker rule(s) and the page will load as expected.