What does this information mean?
Tana would like me to collect some Faydew for her. The Faydew can be found near mushrooms in the area of The Lesser Faydark that Tana is in.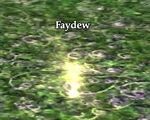 Gather 12 Faydew around the GFay zoneline. They are a sparkling groundspawn. (a lot can be found around the area at ( -337, -34, 40 ) 

/waypoint -337.34, -34.39, 39.89

Tab picks them up, and I find it easiest to stay on the road and cycle through. However, they are visible from quite a distance, so you could just run through the zone :)
Return to Tana
At least

6g

 

19s

 

1c

One of the following, based on Class:
Ad blocker interference detected!
Wikia is a free-to-use site that makes money from advertising. We have a modified experience for viewers using ad blockers

Wikia is not accessible if you've made further modifications. Remove the custom ad blocker rule(s) and the page will load as expected.