In-Game Examine Window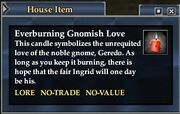 EverQuest II Item Information
Type: House Item

Everburning Gnomish Love

This candle symbolizes the unrequited love of the noble gnome, Geredo. As long as you keep it burning, there is hope that the fair Ingrid will one day be his.
 
LORE,  NO-TRADE,  NO-VALUE

Obtain: Reward from the quest "The Heart of a Gnome" in The Village of Shin.
Ad blocker interference detected!
Wikia is a free-to-use site that makes money from advertising. We have a modified experience for viewers using ad blockers

Wikia is not accessible if you've made further modifications. Remove the custom ad blocker rule(s) and the page will load as expected.