Ad blocker interference detected!
Wikia is a free-to-use site that makes money from advertising. We have a modified experience for viewers using ad blockers

Wikia is not accessible if you've made further modifications. Remove the custom ad blocker rule(s) and the page will load as expected.
In-Game Examine Window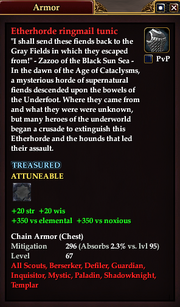 Etherhorde ringmail tunic
"I shall send these fiends back to the Gray Fields in which they escaped from!" - Zazoo of the Black Sun Sea - In the dawn of the Age of Cataclysms, a mysterious horde of supernatural fiends descended upon the bowels of the Underfoot. Where they came from and what they were were unknown, but many heroes of the underworld began a crusade to extinguish this Etherhorde and the hounds that led their assault.


TREASURED
ATTUNEABLE
 

+20 str

+20 wis


+350 vs elemental +350 vs noxious

 
Chain Armor (Chest)
Mitigation
296
Level
67 (Tier 7)
All Scouts, Berserker, Defiler, Guardian, Inquisitor, Mystic, Paladin, Shadowknight, Templar
 
Obtain: From Kaladim Monsters in Kaladim.
\aITEM 741684462 -1052640225:Etherhorde ringmail tunic\/a \aITEM 741684462 -1052640225:Etherhorde ringmail tunic\/a
What does this information mean?
Armor Set: Etherhorde
Etherhorde ringmail tunic
---
No special bonus is gained by the wearing of multiple pieces of this set.