Ad blocker interference detected!
Wikia is a free-to-use site that makes money from advertising. We have a modified experience for viewers using ad blockers

Wikia is not accessible if you've made further modifications. Remove the custom ad blocker rule(s) and the page will load as expected.
In-Game Examine Window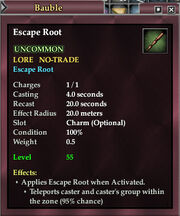 Escape Root

UNCOMMON
LORE   NO-TRADE
Escape Root
 
Charges
(1/1)
Casting
(varies, see notes)
Recast
(varies)
Slot
Charm (Optional)
 
Effects:


Applies Escape Root when Activated.

Teleports caster and caster's group within the zone (% chance varies, see notes)
Obtain: A Carnivorous Plant
What does this information mean?
This is one of several items you can get from the house pet version of a Carnivorous Plant. The level and qualities of this item vary based on the ingredients you give the plant. For more information on how this works see the page for the Carnivorous Plant (house pet).
Chance is based on the level of the root:
\aITEM -73666773 -1247530786:Escape Root\/a 

\aITEM -73666773 -1247530786:Escape Root\/a

= Level 5 = 70% chance
\aITEM 279729192 -1247530786:Escape Root\/a 

\aITEM 279729192 -1247530786:Escape Root\/a

= Level 15 = 75% chance
\aITEM -9552106 -1247530786:Escape Root\/a 

\aITEM -9552106 -1247530786:Escape Root\/a

= Level 25 = 80% chance
\aITEM 498213999 -1247530786:Escape Root\/a 

\aITEM 498213999 -1247530786:Escape Root\/a

= Level 35 = 85% chance
\aITEM -227520687 -1247530786:Escape Root\/a 

\aITEM -227520687 -1247530786:Escape Root\/a

= Level 45 = 90% chance
\aITEM 424146002 -1247530786:Escape Root\/a 

\aITEM 424146002 -1247530786:Escape Root\/a

= Level 55 = 95% chance
\aITEM -159015060 -1247530786:Escape Root\/a 

\aITEM -159015060 -1247530786:Escape Root\/a

= Level 65 = 100% chance