You may upload a JPG or PNG image of the in-game examine window.
EverQuest II Item Information
\aITEM 1500622901 1395844128:Enchanted Lands Creature Cataloging\/a \aITEM 1500622901 1395844128:Enchanted Lands Creature Cataloging\/a
What does this information mean?
Book Text
Enchanted Lands Creature Catalog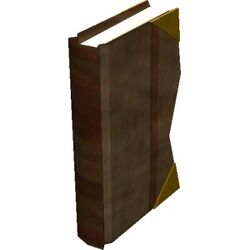 | | |
| --- | --- |
| Author: | Pearl Honeywine |
| Style: | Torn Dark Brown Book |
| Pages: | 6 |
| LootDB Link: | LootDB |
The Enchanted Lands have a high concentration of mana, and therefore they are inhabited by many fey beings. Before the Rending reshaped the lands, this area was in the midst of the large continent of Antonica, situated at nearly the halfway point between Qeynos and Freeport. The area was settled primarily by halflings, with the Runnyeye Citadel home to the Runnyeye goblins.

The Enchanted Lands include the Misty Thicket, Rivervale and Runnyeye Citadel, all of which survived the Rending and the Shattering in relatively untouched form. Rivers still meander lazily through deep green hills across the region. It is surrounded entirely by the Sea of Mist, named for its blanket of nearly impenetrable fog.

Though the coast areas are foggy in the morning, once the sun has risen the fog close to shore dissipates, revealing an area dominated by emerald green. The temperatures have little variation between day and night. The coolest period during the season is Decay, although the Enchanted Lands do not appear to have a very long Decay cycle.

The mild temperatures and somewhat moist environment give the Enchanted Lands a cloak of thick, velvety grass and tall deciduous trees. As Decay is so abbreviated in this region, there is no true falling of the leaves. There is always a green canopy overhead, green pathways underfoot and an abundance of fruit and flowers.

The proximity to the nectar of so many flowers is doubtless why the bixies call the Enchanted Lands home. However, since the changing of the lands, there are other creatures in abundance too, including lamias and nightbloods. In some cases, even the trees are potentially animated and dangerous. Caution while travelling is advised, especially after nightfall.