Ad blocker interference detected!
Wikia is a free-to-use site that makes money from advertising. We have a modified experience for viewers using ad blockers

Wikia is not accessible if you've made further modifications. Remove the custom ad blocker rule(s) and the page will load as expected.
In-Game Examine Window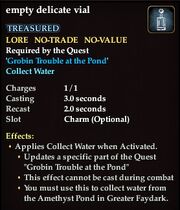 Empty delicate vessel

TREASURED
LORE   NO-TRADE   NO-VALUE
Required by the Quest
'Grobin Trouble at the Pond'
Collect Water
 
Charges
1/1
Casting
3.0
Recast
2.0
Slot
Charm (Optional)
 
Effects:


Applies Collect Water when Activated.

Updates a specifi part of the Quest "Grobin Trouble at the Pond"
This effect cannot be cast during combat
You must use this to collect water from the Amethyst Pond in Greater Faydark
Obtain: Received during or used in the quest 'Grobin Trouble at the Pond'
What does this information mean?