Ad blocker interference detected!
Wikia is a free-to-use site that makes money from advertising. We have a modified experience for viewers using ad blockers

Wikia is not accessible if you've made further modifications. Remove the custom ad blocker rule(s) and the page will load as expected.
In-Game Examine Window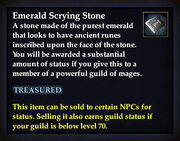 EverQuest II Item Information
Type: Status Item
Awards AA

Emerald Scrying Stone

A stone made of the purest emerald that looks to have ancient runes inscribed upon the face of the stone. You will be awarded a substantial amount of status if you give this to a member of a powerful guild of mages.
 
 
TREASURED
This item can be sold to certain NPCs for status.


Selling it also earns guild status if your guild is below level 75.

Obtain: Dropped by Sentient Beings levels 70 - 79
\aITEM 1133033886 -1919812808:Emerald Scrying Stone\/a \aITEM 1133033886 -1919812808:Emerald Scrying Stone\/a
What does this information mean?
This status item, is accepted by the following NPC's for 800SP:
Evil alignment: Paragon Jalex ( -1, 7, -110 ) 

/waypoint -1, 7, -110

in North Freeport.
Good alignment: Pupil Adept Wazzlefop ( 723, -19, 136 ) 

/waypoint 723.35, -19.00, 136.43

of The Concordium in South Qeynos.