In-Game Examine Window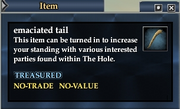 EverQuest II Item Information
\aITEM 1297995080 -594943139:emaciated tail\/a \aITEM 1297995080 -594943139:emaciated tail\/a
What does this information mean?
Emaciated tails also drop from the refugee roekillik in the tunnel leading from the central area of The Hole to The Old Paineel Overlook.
CAUTION: The disheveled refugee mobs do have a faction hit against the Caertaxian Legion. If you're worried about faction kill the mobs here 77.94, 37.22, -84.40. They do not give you a faction hit.
EQ2i credits this article at Census for the info in this article.
the last update on Census for this item was:
Tue, 18 Jul 2017 14:49:35 +0000
Ad blocker interference detected!
Wikia is a free-to-use site that makes money from advertising. We have a modified experience for viewers using ad blockers

Wikia is not accessible if you've made further modifications. Remove the custom ad blocker rule(s) and the page will load as expected.