Elemental Dominance    < Elemental Dominance (Mythical) >
Talk

2
Share
Ad blocker interference detected!
Wikia is a free-to-use site that makes money from advertising. We have a modified experience for viewers using ad blockers

Wikia is not accessible if you've made further modifications. Remove the custom ad blocker rule(s) and the page will load as expected.
In-Game Examine Window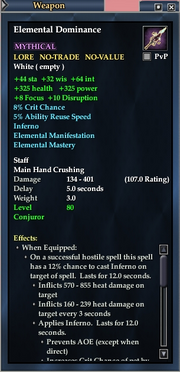 Elemental Dominance

MYTHICAL
LORE   NO-TRADE   NO-VALUE

+32 wis

+64 int

+44 sta




+325 health

+325 power


+8 Focus +10 Disruption

8% Crit Chance
5% Ability Reuse Speed

Inferno
Elemental Manifestation
Elemental Mastery
 
Staff
Main Hand Crushing
Damage
134-401                  (107.0 Rating)
Delay
5.0 seconds
Level
80 (Tier 9)
Conjuror
 
Effects:


When Equipped:

On a successful hostile spell this spell has a 12% chance to cast Inferno on target of spell. Lasts for 12.0 seconds.

Applies Inferno. Lasts for 12.0 seconds.

Increases Damage Spell Crit Chance of pet by 20.0%
Prevents AOE (except when direct)

Inflicts 581-872 heat damage on target
Inflicts 163-244 heat damage on target every 3 seconds

This spell can not be modified except by direct means.

Applies Elemental Manifestation when Activated.

Summons a pet Elemental Manifestation.
The casting time of Elemental Manifestation is 10.0 seconds and the reuse time of the spell is 2.0 seconds

When Equipped

Increases the base damage of hostile spells by 10%
Obtain: Reward from the quest "Conjuror Epic Weapon Timeline."
\aITEM -858570028 723977191:Elemental Dominance\/a \aITEM -858570028 723977191:Elemental Dominance\/a
What does this information mean?
This item is a reward from one of the Epic Quests introduced with Game Update 42.
See the item's Obtain field for the particular quest that rewards this item.