Ad blocker interference detected!
Wikia is a free-to-use site that makes money from advertising. We have a modified experience for viewers using ad blockers

Wikia is not accessible if you've made further modifications. Remove the custom ad blocker rule(s) and the page will load as expected.
What does this information mean?

Aleesia, a Growth centered glaufaye, wants to see a resurgence of umbral leafhoppers in Luminous Peaks, Luminous Steppe, and Zou'Lidelas. Their numbers have dwindled ever since the cave locust invaded.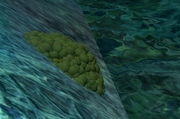 Harvest 5 umbral leafhopper eggs.

These are small masses of yellowish eggs, found on the river banks in the Luminous Steppe around ( -463, 113, -13 ) 

/waypoint -463.23, 112.92, -13.17

.

Place the eggs in the Everdark Reeds in the following areas:
Return to Aleesia
At least

1p

 

41g

 

75s

Completing this quest gives +1000 faction with Zou'Lidelas
One of the Following:

Chain
Cloth
Leather
Plate