In-Game Examine Window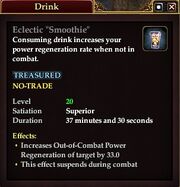 EverQuest II Item Information
Type: Drink

Eclectic "Smoothie"

Consuming drink increases your power regeneration rate when not in combat.
 
TREASURED
NO-TRADE
Satiation
Superior
Duration
30 minutes
Level
20 (Tier 3)
Effects:

Increase Out-of-Combat Power Regeneration of target by 33
This effect suspends during combat




Obtain: Reward from the quest "More Reagents" in Darklight Wood.
What does this information mean?
Ad blocker interference detected!
Wikia is a free-to-use site that makes money from advertising. We have a modified experience for viewers using ad blockers

Wikia is not accessible if you've made further modifications. Remove the custom ad blocker rule(s) and the page will load as expected.