In-Game Examine Window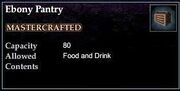 EverQuest II Item Information
What does this information mean?
If you are not familiar with pantries, you may want to read about the general topic of sales displays that can be placed in player housing.
All pantries are Master Crafted (made from a rare material) by those who take up the Carpenter tradeskill. No matter what tier of rare wood used to make a pantry, they all look the same when placed.
This sales display holds a limited scope of items that are typically made by a Provisioner, like Food and Drink.