In-Game Examine Window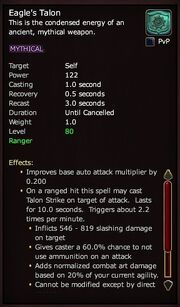 EverQuest 2 Spell Information
Eagle's Talon
Ranger
This is the condensed energy of an ancient, mythical weapon.


Target
Self
Power
109
Casting
1.0 seconds
Recast
3.0 seconds
Duration
Until Cancelled
Level
80

Effects


Improves base auto attack multiplier by 0.200
On a ranged hit this spell may cast Talon Strike on target of attack. Lasts for 10.0 seconds. Triggers about 2.2 timers per minute.

Gives caster a 60% chance to not use ammunition on an attack
Inflicts 454 - 680 slashing damage on target
Adds normalized combat art damage based on 20% of your current agility.
Cannot be modified except by direct means.

Improves combat art damage of the ranger by 10%
Cannot be modified except by direct means.
This spell is not upgradeable
This spell is a quest reward for completing Epic Repercussions.
In game link: \aITEM -1801582093 690638045 0:Eagle's Talon\/a
Ad blocker interference detected!
Wikia is a free-to-use site that makes money from advertising. We have a modified experience for viewers using ad blockers

Wikia is not accessible if you've made further modifications. Remove the custom ad blocker rule(s) and the page will load as expected.