Ad blocker interference detected!
Wikia is a free-to-use site that makes money from advertising. We have a modified experience for viewers using ad blockers

Wikia is not accessible if you've made further modifications. Remove the custom ad blocker rule(s) and the page will load as expected.
In-Game Examine Window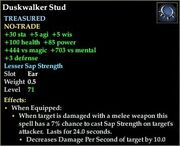 Duskwalker Stud

TREASURED
NO-TRADE

+5 agi

+5 wis

+30 sta




+100 health

+85 power


+703 vs arcane
+3 Defense

Lesser Sap Strength
 
Slot
Ear
Level
71 (Tier 8)
 
Effects:


When Equipped:

When target is damaged with a melee weapon this spell has a 7% chance to cast Sap Strength on target's attacker. Lasts for 24.0 seconds.
Decreases Damage Per Second of target by 10.0
Obtain: Reward from the quest "Crystal Mountain" in Fens of Nathsar.
\aITEM 2062231477 1241622975:Duskwalker Stud\/a \aITEM 2062231477 1241622975:Duskwalker Stud\/a
What does this information mean?